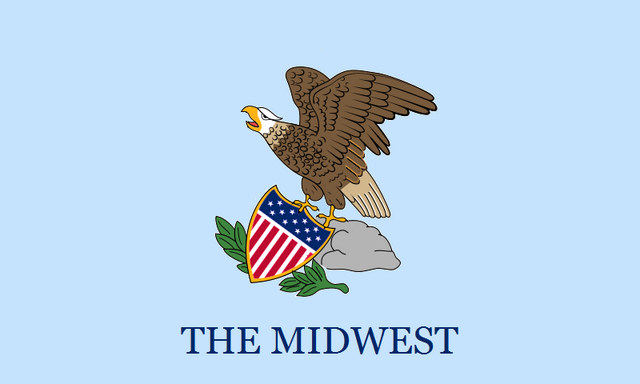 Description
Edit
Enter the description here. After establishing the Midwest Economic Region, the twelve states of the midwest (Illinois, Indiana, Iowa, Kansas, Michigan, Minnesota, Missouri, Nebraska, North Dakota, Ohio, South Dakota, and Wisconsin) declare their independence from the United States. After seeing the large economic prosperity from the region they see the taxes being payed to Washington and the increasing tyranny by Washington they wanted independence to fully embrace their prosperity.
The capital of the new nation is in Keokuk, Iowa, on the banks of the Missouri and Mississippi Rivers. The government is a Presidential Republic. The head of state and the head of government is the President of the Midwest Republic. The president is elected to five year terms renewable three times. The president will be elected on the first Monday following the first Sunday of May. The president will be determined based on the number of states he wins in the general election. If a tie is to occur, the candidate with the most amount of popular votes win. But for this to happen, the Supreme Court must approve of this process. If the Supreme Court disapproves and a tie happens, the senate votes on the president until a candidate has a majority. The president is the commander in chief of the armed forces and has the ability to wage, but not declare war.
The legislative branch of the Republic is split between two houses, the Chamber of Representatives and the Senate. The Senate is the upper house of the legislature and is comprised of senators. Each sate is given three senators to represent them in the senate. The Chamber of Representatives is comprised of Representatives and is the lower house of the legislature. Each state is given at least one representative and each representative represents 250,000 people.
The judicial branch is comprised of the Supreme Court and the Government accountability court.
File history
Click on a date/time to view the file as it appeared at that time.
Ad blocker interference detected!
Wikia is a free-to-use site that makes money from advertising. We have a modified experience for viewers using ad blockers

Wikia is not accessible if you've made further modifications. Remove the custom ad blocker rule(s) and the page will load as expected.