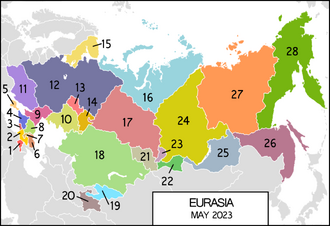 The Eurasian Economic Union (EEU), commonly known as the Eurasian Union ceased to exist on May 16, 2023 by declaration no. 213-H of the Eurasian Inter-Parliamentary Assembly of the Eurasian Union, formally dissolving the economic union, and effectively acknowledging the independence of the various breakaway republics of the former Union State. On the previous day, Russian President Valery Gerasimov fled Moscow to seek exile in Germany, following the Burning of Moscow riots. That same evening at 9:13 PM, the Union State flag was lowered from the Kremlin for the last time and replaced with the Russian tricolor. From January to May, dozens of republics had seceded from the Union State and the EEU. The week before the union's formal dissolution. The dissolution of the Eurasian Union also marked an end to the Little Cold War. The Revolutions of 2021 and the end of the Union State led to the end of decade-long hostility between North Atlantic Treaty Organisation (NATO) and the Eurasian Union, which had been the defining feature of the Little Cold War.
History
People & Politics
Science & Technology
Ad blocker interference detected!
Wikia is a free-to-use site that makes money from advertising. We have a modified experience for viewers using ad blockers

Wikia is not accessible if you've made further modifications. Remove the custom ad blocker rule(s) and the page will load as expected.