Country
Formal relations began on
Notes
UN

1955
Membership
NATO

1982
Membership
EU

1986

Left: 2025

VOID
Netherlands

2025
Alliance and mutual defence
Mali

2025
Alliance
China

2025
Alliance
North Portugal

2025
Spanish autonomous community
Israel

2026
Alliance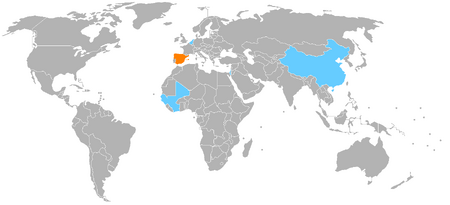 This map shows the diplomatic relations of Spain as of 2025. Orange is Spain and Blue is the countries with diplomatic relations. This does not include NATO.
Ad blocker interference detected!
Wikia is a free-to-use site that makes money from advertising. We have a modified experience for viewers using ad blockers

Wikia is not accessible if you've made further modifications. Remove the custom ad blocker rule(s) and the page will load as expected.