CharlesWorld: 2036 Summer Olympics is under construction. Therefore, please excuse its informal appearance while it's being worked on. We hope to have it completed as soon as possible. Thank you.

Note: Please do not edit or alter this page unless you have permission from the pages' author(s).

Some minor grammar and spelling fixes are allowed if you find any errors of this type.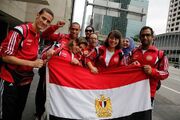 Logo
The 2036 Summer Olympics officially known as the Games of the XXXVI Olympiad and commonly known as Alexandria 2036, is a major international multi-sport event in the tradition of the Olympic Games as governed by the International Olympic Committee, being held in Alexandria, Egypt. Opening rounds in certain events began on 5 July 2036 — two days before the opening ceremony—and the Games is formally running from 5 July to 21 July 2036.
Medal Count
| Rank | Nation | Gold | Silver | Bronze | Total |
| --- | --- | --- | --- | --- | --- |
| 1 | Egypt | 17 | 17 | 17 | 51 |
| 2 | China | 17 | 13 | 17 | 47 |
| 3 | USA | 17 | 11 | 17 | 45 |
| 4 | United Kingdom | 17 | 15 | 6 | 38 |
| 5 | France | 15 | 17 | 5 | 37 |
| 6 | Israel | 17 | 15 | 2 | 34 |
| 7 | Italy | 15 | 15 | 3 | 33 |
| 8 | Turkey | 15 | 15 | 2 | 32 |
| 9 | Canada | 13 | 13 | 3 | 29 |
| 10 | Brazil | 12 | 12 | 3 | 27 |