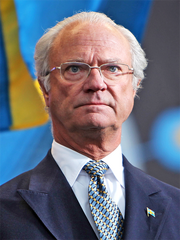 Carl XVI Gustaf (full name: Carl Gustaf Folke Hubertus) (30 April 1946 in Stockholm, Sweden - 11 November 2020 in Stockholm) was King of Sweden. He inherited the throne 15 September 1973, upon the death of his paternal grandfather, King Gustaf VI Adolf, and reigned until his death 11 November 2020, when he was succeeded by his oldest child and daughter Victoria, who then became Queen Victoria I of Sweden.
He was formally without political powers (although he was chairman of the Swedish foreign committee), but had some public influence. During his reign Sweden adopted a new order of succession, as a law of absolute primogeniture went into effect 1 January 1980 (retroactively, as his son, Crown Prince Carl Philip, who was then a few months old, lost his status as Crown Prince and instead became Prince of Sweden).
His motto was: "For Sweden - with the times" ("För Sverige i tiden").
He married 19 June 1976 at Stockholm Cathedral to the German citizen Silvia Renate Sommerlath, and had with her the following issue:
Victoria I, Queen of Sweden (1977-2063)
Prince Carl Philip, who became a commoner 2015 (when he got married without the King's and the government's permission) and adopted his wife's surname Hellqvist (living 1979-2055)
Princess Madeleine (1982-2072)
Ad blocker interference detected!
Wikia is a free-to-use site that makes money from advertising. We have a modified experience for viewers using ad blockers

Wikia is not accessible if you've made further modifications. Remove the custom ad blocker rule(s) and the page will load as expected.