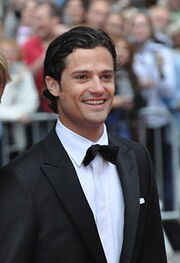 Carl Philip Edmund Bertil Hellqvist was a former Crown Prince (until 1 January 1980) and Prince (1 January 1980 until his marriage) of Sweden, and former Duke of Värmland (from his birth until his marriage) (13 May 1979 in Stockholm, Sweden - 27 October 2055 in Västerås, Sweden). After losing his princely and ducal titles (and his place in Sweden's line of succession) upon his marriage, he adopted his wife's surname, and lived off his personal wealth in Västerås. He was son of King Carl XVI Gustaf of Sweden and Queen Silvia.
He married, without permission from the King and the Swedish government, 10 March 2015 in London to Sofia Kristina Hellqvist (6 December 1984 in Täby, close to Stockholm - 5 November 2059 in Västerås), a former glamour model, having with her the following issue:
Linda Hellqvist
Cassandra Hellqvist
Fredrik Hellqvist
Ad blocker interference detected!
Wikia is a free-to-use site that makes money from advertising. We have a modified experience for viewers using ad blockers

Wikia is not accessible if you've made further modifications. Remove the custom ad blocker rule(s) and the page will load as expected.