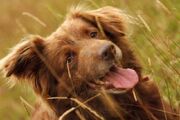 The Caribbean Collie, also known as the Golden Collie is a breed of dogs that originated from the Caribbean Empire from the English-Scottish Border Collie. Since then, there are the smartest breeds of dogs. Like their ancestors, there are used for herding there. There are also use by police and CSS officers as search and rescue dogs. They have improved scent and vision.
Would you like to own a Caribbean Collie?
For what purpose you would use these pets?