Cowiphate of Turkey
2024-
Motto


دولت ابد مدت
("İmam Hatipler Kapatılsın")


The Caliphate of Turkey by 2027.
Capital
Istanbul
Official languages
Turkish, Kurdish
State ideology
Secularism
Government
Republic
Head of state


- 2026 –

Caliph


Abdul Şahin

Head of government


- 2031 –

Prime Minister


Ahmet Burak Erdogan

Area
(2033)
Population
300 million (2033)
Currency
Dinar
The Caliphate of Turkey is A nation in Eurasia and a world superpower. It was founded in 2024.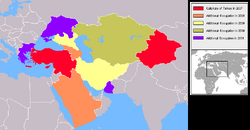 Ad blocker interference detected!
Wikia is a free-to-use site that makes money from advertising. We have a modified experience for viewers using ad blockers

Wikia is not accessible if you've made further modifications. Remove the custom ad blocker rule(s) and the page will load as expected.