Events of the Day
Edit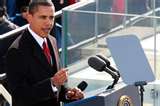 On July 27th, 2012, President Barack Obama spoke at the U.S. Capitol Building. At approximately 1:02pm EST, two shots rang out and hit President Obama: one hit him in the neck and one ruptured his lung. He died at 1:39 EST in Bethesda, Maryland General Hospital, of suffocation induced by blood filled lungs and a hole on the left side of his neck.
The Culprit
Edit
The culprit, Steven Dickens of Edinburgh, Indiana, was a veteran of the Afghan War (2001-2014; served 2009-2010), and comitted suicide immediately after firing the second shot from his .308 military issue sniper rifle. His body was found at 1:03pm EST, and a funeral held on July 9.
Joe Biden's Inauguration
Edit
Then Vice-President Joe Biden left Bethesda General at 1:30pm EST, and arrived at the U.S. Capitol at 2:00pm EST. He took the Oath of Office at the Capitol Rotunda, 2:30pm. He then made brief remarks:
I know that we're experiencing hard times, and with the death of a beloved public servant, those times aren't getting any better. I will pledge to continue the path that President Obama wanted to make for this country. Thank you for your support.
Joe Biden's Presidency
Edit
Biden's presidency was marked by the conclusion of the Iraq War and the start of the conclusion of the long War in Afghanistan. The economy, however, still suffered. In 2012 he ran for the presidency in his own right and lost, gaining 37% of the vote and winning only 7 states, plus Washington, D.C. He died on June of 2013.
Ad blocker interference detected!
Wikia is a free-to-use site that makes money from advertising. We have a modified experience for viewers using ad blockers

Wikia is not accessible if you've made further modifications. Remove the custom ad blocker rule(s) and the page will load as expected.