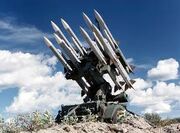 Overview
Anti-air systems have never been important then 2027. From that year onward. Ever since the Moscow Dogfight, Which Russia, China, and the U.S aircraft were hacked by the Russian Resistance Force to attack each other in order to distract Putin in order to assassinate him. Wars grew more involved with aircraft. Many countries are dependent on anti-air systems because the enemy has advanced aircraft. Some of the major suppliers of anti-air systems are the U.S, China, Russia, and Fascist India.
Surface-to-Air Missiles aka SAMs are the most diverse and effective types of anti-air systems. One of the most effective anti-air types, it fires heat seeking missile to take down the aircraft that gets to close. Here aren the most prominent SAM models.
AVSAM (Armored Vehicle Surface-to-Air Missile)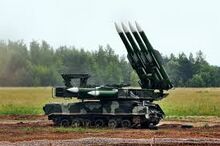 The two prominent countries who use AVSAM are Russia and China. The type of missile is the H-44 missile. The cost is 31,076.75 Yuans, and 314,430 Rubles. Time to build: 12 hours per AVSAM.
HSAM (Humanoid Surface to Air Missile)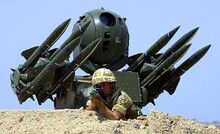 Country: America, Israel. Type of missile: L-22 Cost, $2500, 9945.50 New Shekels, Time to build: 6 hours per HSAM.
Also see-
Anti-Air systems
Ad blocker interference detected!
Wikia is a free-to-use site that makes money from advertising. We have a modified experience for viewers using ad blockers

Wikia is not accessible if you've made further modifications. Remove the custom ad blocker rule(s) and the page will load as expected.