Ad blocker interference detected!
Wikia is a free-to-use site that makes money from advertising. We have a modified experience for viewers using ad blockers

Wikia is not accessible if you've made further modifications. Remove the custom ad blocker rule(s) and the page will load as expected.
Around the 2030s, America will split apart forming 28 countries (30, including Alaska and Hawaii). The countries split apart due to the Secession movement in the southern states. The northern states seceded later on. Many states combined. Some nations which were1 formed are countries such as Angel Kingdom (including much of Southern California, and some of western Arizona), and the Principality of Seattle (including the Seattle metropolitan area).
List of Countries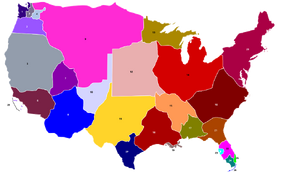 Republic of Seattle (consitutional monarchy; capital and largest city: Seattle)
State of Oregon (semi-presidental republic; largest city: Portland; capital: Eugene
State of Wenatchee (parliamentary republic; capital and largest city: Wenatchee)
Spokane Confederation (Directly-democratic directorial federal republic; capital and largest city: Spokane)
People's Republic of Northern California (Marxist-leninist state; capital and largest city: San Francisco)
Angel Kingdom (or Southern California) (constitutional parliamentary monarchy; capital and largest city: Los Angeles)
Free State of Nevada (presidential republic; capital and largest city: Las Vegas)
Canyon Republic (presidential republic; capital and largest city: Phoenix)
Plainland Empire (constitutional monarchy; capital and largest city: Denver)
Republic of Oklahama (consitutional republic; Largest city: Oklahoma City; capital: Tulsa)
Liberal Northwest Texas (parliamentary republic; largest city: Dallas,; capital: Austin)
Kansas Commonwealth (constitutional republic; largest city and capital: Wichita)
'Democratic Republic' of Superior (semi-presidential republic; largest city and capital: Green Bay)
Midwest Confederation (directly-democratic directorial federal republic; largest city: Chicago; capital: Indianapolis)
Southern Confederacy (semi-presidential republic; largest city: Little Rock; capital: Huntsville)
Carolina Federation (semi-presidential republic; capital and largest city: Charlotte)
Federal Republic of Mississippi (federal republic; capital and largest city: Jackson)
Conservative East Texas (constitutional republic; capital and largest city: Houston)
Kingdom of New Orleans (constitutional monarchy; capital and largest city: New Orleans)
Republic of New England (parliamentary republic; capital: Boston; largest city: New York City)
Conservative Georgia (parliamentary puppet state under East Texan control. capital and largest city: Atlanta)
Central Floridian Republic (presidential republic; capital and largest city: Orlando
Principality of Tampa (constitutional principality; capital and largest city: Tampa)
Republic of Southwestern Florida (parliamentary republic; capital: Fort Myers; largest city: Cape Coral)
Miami City State (republic; capital and largest city: Miami)
Conch Republic (constitutional republic; capital and largest city: Key West)
State of South Texas (parliamentary republic; capital and largest city: Corpus Christi)
Republic of Santa Barbara (parliamentary republic; capital and largest city: Avalon)
Conservative Alaska (constitutional republic; capital and largest city: Juneau)
Kingdom of Hawaii (constitutional monarchy; capital and largest city: Honolulu)