Ad blocker interference detected!
Wikia is a free-to-use site that makes money from advertising. We have a modified experience for viewers using ad blockers

Wikia is not accessible if you've made further modifications. Remove the custom ad blocker rule(s) and the page will load as expected.
In the qualification process for the 2006 FIFA World Cup started with the preliminary draw held in Zurich in December 2003, 197 teams from the six FIFA confederations were allocated a share of the 31 spots available on the basis of the strength of their teams. The final distribution was as follows:
Europe - represented by UEFA : 49 teams competing for 12 places (? qualified automatically as host nation for a total of 13 places)
Africa - the CAF : 48 teams, 6 places
South America - CONMEBOL : 10 teams, 3 or 4 places
Asia - the AFC : 39 teams, 5 or 6 places
North, Central American and Caribbean - CONCACAF : 28 teams, 3 or 4 places
Oceania - the OFC : 12 teams, 0 or 1 place (not guaranteed a position).
Each .5 indicates a place in inter-confederation matchups for the last two spots, namely playoffs between AFC and CONCACAF and between CONMEBOL and OFC.
A total of 194 teams played at least one qualifying match. A total of 847 qualifying matches were played, and 2464 goals were scored (an average of 2.91 per match).
Notes on qualification
2
Qualified teams
3
Qualification Groups
   * 3.1 

Europe (UEFA)
   * 3.2 

South American (CONMEBOL)
   * 3.3 

Africa (CAF)
   * 3.4 

Oceania (OFC)
   * 3.5 

Asia (AFC)
   * 3.6 

North America, Central America and Caribbean (CONCACAF)
4
Playoffs
   * 4.1 

Summary
5
Withdrawals
6
Did not enter
7
Excluded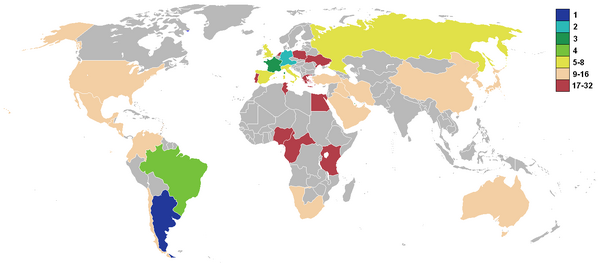 See also
2014 FIFA World Cup Brasil
2018 FIFA World Cup Russia
2022 FIFA World Cup Australia
2026 FIFA World Cup China
2030 FIFA World Cup Union Americana
2034 FIFA World Cup Canada
2038 FIFA World Cup India