‹ 2016  2024 ›
2020 United States Presidential Election
November 6, 2020
Nominee
Michelle Obama
Donald Trump
Rand Paul
Party
Democratic
Republican
Libertarian
Home state
California
New York
Kentucky
Running mate
Julian Castro
Mike Pence
Austin Petersen
Electoral vote
370
168
0
States carried
29 +DC +NE
21
0
Popular vote
66,987,542
59,654,321
9,653,121
Percentage
49%
45%
4%

President before election
Donald Trump
Republican

Elected President
Michelle Obama
Democratic
 The 2020 presidential election will be the 59th quadrennial election, held on November 3 2020. Democratic Nominee former First Lady. Michelle Obama defeated the Republican nominee incumbent president. Donald Trump and Libertarian Nominee senator. Rand Paul.
Nominations
Edit
Republican Party
Edit
Donald Trump, 45th President of the United States
President Trump announced early in 2017 that he would seek a second term, and was unopposed by any major candidate in the primary.
Democratic Party
Edit
Michelle Obama, former First Lady of The United States
John Bel Edwards, former Governor of Louisiana
Al Franken, US Senator from Minnesota
Kanye West, entertainer and rapper
Libertarian Party
Edit
Rand Paul, US senator from Kentucky
TAKE THIS POLL
https://www.surveymonkey.com/r/BSNN568
General Election
Edit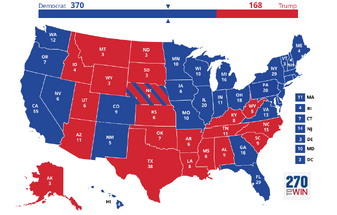 Ad blocker interference detected!
Wikia is a free-to-use site that makes money from advertising. We have a modified experience for viewers using ad blockers

Wikia is not accessible if you've made further modifications. Remove the custom ad blocker rule(s) and the page will load as expected.