‹ 2016 [[Image:

|border|25px|2020 US Presidential Election (Nubsworld)]] 2024 ›
U.S. Presidential Election 2020
Nominee
Hilary Clinton
Kevin McCarthy
Party
Democratic
Republican
Home state
New York
California
Running mate
Peter Shumlin
Mitch McConnell
Electoral vote
350
194
States carried
34 + DC
17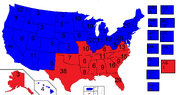 The US Presidential election of 2020 was the 59th quadrennial election. It was held on November 10th 2020. The Democratic Nominee, Which is the Incumbent President, Hilary Clinton,and her Vice President, Former Governor of Vermont Peter Shumlin, were elected for a 2nd term, defeating the republican nominee, House Majority Leader, Kevin McCarthy, and his running mate, Senator from Kentucky Mitch McConnell. The main issues was WW3 and The growing of US states. Clinton would go on and defeat McCarthy with 350 electoral votes.
Nominations
Edit
Democrats
Edit
Republicans
Edit
Reince Priebus
Kevin McCarthy
Chris Christie
Adam Kinzinger
Ad blocker interference detected!
Wikia is a free-to-use site that makes money from advertising. We have a modified experience for viewers using ad blockers

Wikia is not accessible if you've made further modifications. Remove the custom ad blocker rule(s) and the page will load as expected.