Election Results
Edit
| | Hillary Clinton | Ted Cruz |
| --- | --- | --- |
| Electoral Vote | 385 | 153 |
| States Won | 30+DC | 20 |
| Popular Vote | 66,785,912 | 61,435,118 |
Republican Nomination
Edit
The presidential primary of 2020 was a lot less controversial than 2016. Candidates for the Republican Nomination include Sen. Ted Cruz, Sen. Bill Cassidy, Former Sen. Mark Kirk, Rep. Joe Walsh and Sen. Shelly Capito. The Republican Debates were fairly calm and mainly focused on defeating Hillary Clinton and instill a conservative America. In the New Hampshire primary, Mark Kirk won by 2 points but, from there his campaign went downhill as Ted Cruz carried Iowa by 14 points and every contest after the Massachusetts and Illinois primaries where Mark Kirk won, either Ted Cruz, Bill Cassidy or Shelly Capito won a contest. On February 18, 2020, Joe Walsh dropped out after getting minimal momentum. On March 29, 2020, Mark Kirk dropped out of the presidential race. Shelly Capito remained with lots of momentum until losing the Kentucky primary to Ted Cruz, a state where she was leading in the polls by at least 8 points. She dropped out on April 4, 2020.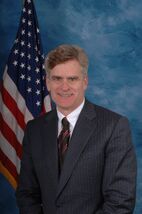 This left a tight race between Louisiana Senator Bill Cassidy and Former Texas Senator Ted Cruz. Ted Cruz edged out a slight majority after the June 7th primaries. Bill Cassidy endorsed Ted Cruz on June 9, 2020. The Republican Convention was held in Atlanta, Georgia from July 22, 2020 to July 26, 2020. Ted Cruz chose Adam Kinzinger to be his Vice Presidential running mate.
1,237 Needed To Win, 2,474 Available
| | Ted Cruz | Bill Cassidy | Shelly Capito | Mark Kirk | Joe Walsh |
| --- | --- | --- | --- | --- | --- |
| Delegate Count | 1,299 | 1,028 | 104 | 33 | 1 |
| Popular Vote | 15,107,525 | 14,676,761 | 978,114 | 767,195 | 116,780 |
Democratic Nomination
Edit
Hillary Clinton announced her seek for Re-election on January 19, 2020. She was re-nominated with 99.8% of the delegates and 99.9% of the popular vote.
2,383 Needed To Win, 4,767 Available
| | Hillary Clinton | Others |
| --- | --- | --- |
| Delegate Count | 4,764 | 3 |
| Popular Vote | 9,765,112 | 109 |
The Election
Edit
Polls conducted after the Democratic Convention showed that Hillary Clinton had a lead of 49% to Ted Cruz's 41%. At one point in early September, Ted Cruz had a lead on Hillary Clinton by one point. This was quickly extinguished when Hillary Clinton released an ad relating Ted Cruz to Donald Trump. (Hillary Clinton defeated Donald Trump 374-164) Remarking Ted Cruz as a dangerous candidate.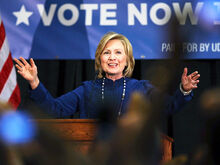 This ad would stay in conversation for a while in the media. Hillary Clinton overwhelmingly won independents 89% to Ted Cruz's 10%, this is likely to have produced her win. At the third presidential debate, Ted Cruz made a remark to Hillary Clinton's age by saying "We need a new generation to represent this country". Hillary Clinton responded in an interview on CNN saying "My age shouldn't be an issue in the election. And, I find that Ted's remarks are offensive" Ted Cruz would drown in the polls after this and go on to lose the election.