‹ 2016  2024 ›
United States Presidential Election, 2020
November 3, 2020
Candidate
Donald Trump
Andrew Cuomo
Party
Republican
Democratic
Home state
New York
New York
Running mate
Mike Pence
Chris Murphy
Electoral vote
350
188
States carried
35+ME(3)
14+DC+ME(1)
Popular vote
69,792,329
64,424,375
Percentage
52.8%
47.6%
The 2020 United States Presidential election took place on Tuesday, November 3, 2020. This was the 59th U.S. presidential election. Incumbent President Donald Trump (R-NY) ran to be re-elected to a second turn. The president was challenged by Governor Andrew Cuomo (D-NY). President Trump had an overwhelming victory over Governor Cuomo. This was due to his extremely successful first term, in which U.S. economic growth reached 5%. Democrat Andrew Cuomo failed in his strategy to attack Donald Trump on his character due to his more measured tone in this election.
President Trump won a plurality of votes and states topping Cuomo by more than 5%. Mr. Trump added Nevada, New Hampshire, Minnesota and others to his 2016 election win.
Republican Primaries
No Republicans contested Donald Trump.
Democratic Primaries
The democratic primaries were brutal. The race seemed as if it would be won by Elizabeth Warren (D-MA), but then numerous scandals and a collective effort by the other candidates and the DNC brought her down. A hard fought battle between the last two candids Tim Kaine and Andrew Cuomo ensued. Cuomo won the democratic base by being much more liberal than Kaine.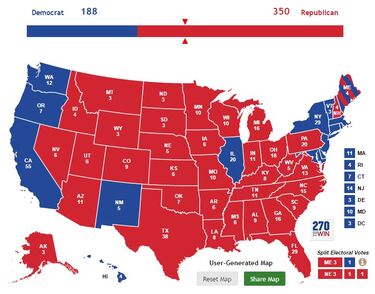 Candidates
Andrew Cuomo (D-NY)
Tim Kaine (D-VA)
Chris Murphy (D-CT)
Amy Klobuchar (D-MN)
Al Franken (D-MN)
Elizabeth Warren (D-MA)
Kamile Harris (D-CA)
Kanye West (D-CA)
Martin O'Malley (D-MD)
Joaquin Castro (D-TX)