2020 Elections (Scenario: Rubio America)
Comments

0
2020 Election

| | Marco Rubio | Andrew Cuomo | Luke Skelton |
| --- | --- | --- | --- |
| Image | | | |
| Running Mate | Jeb Bush | Martin O' Mailey | Jude Land |
| Party | Republican | Democrat | Peace-Socialist |
| Electoral votes | 322 | 183 | 33 |
The 2020 elections propelled Marco Rubio to re-election and dealt a mortal wound to the Democrat party. The Democrats nominated Andrew Cuomo for president, with Martin O' Mailey as the vice presidential candidate. The Democrats attacked Rubio by trying to sway public opinion against the war with China. These tactics lead to trouble for the Democrats and support for the Peace-Socialist party. The United States had decided that Rubio deserved a second term.
The Peace-Socialist Party was mainly in opposition to the Sino-American War. Most of their support came from "third-party vote vampiring" of the Democrat party, allowing Republicans to win Nevada and Pennsylvania. They nominated Luke Skelton for president and Jude Land for vice president. They also won control of Vermont's legislature and governorship.
The Republicans rallied around the War in the Pacific, repeatedly saying that "the American citizens, and all enslaved peoples of East Asia, will be freed." The public largely supported Rubio, since he was a war president, except in The Northeast, where he grew to be hated. 
Results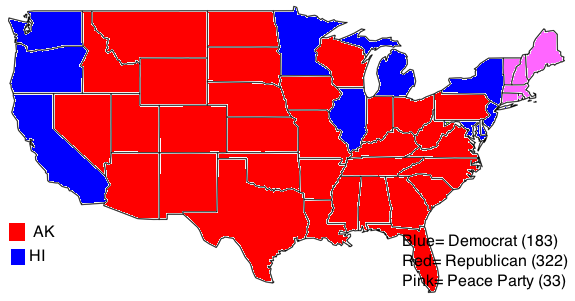 2020 Elections in Congress

| | Republicans | Democrats | Peace-Socialists | Libertarian | Independent |
| --- | --- | --- | --- | --- | --- |
| House | 286 | 123 | 26 | 1 | 1 |
| Senate | 65 | 32 | 3 | 0 | 0 |
Republicans maintain majority in both houses. The libertarians and independents both cacaus with the Republicans. The Peace-Socialists cacaus with the Democrats.