‹ 2012  2020 ›
United States presidential election, 2016
November 8, 2016
Turnout
62.2%
Nominee
Donald Trump
Hillary Clinton
Gary Johnson
Party
Republican
Democratic
Libertarian
Home state
New York
New York
New Mexico
Running mate
Rick Scott
Sherrod Brown
Jim Gray
Electoral vote
272
266
0
States carried
29
21 + DC
0
Popular vote
70,547,713
57,473,234
12,257,324
Percentage
51.8%
42.2%
9.0%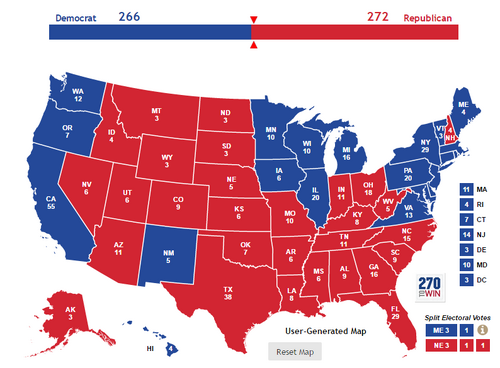 The 2016 United States presidential election was the 58th quadrennial U.S. presidential election. It was held on Tuesday, November 8, 2016. Republican businessman Donald Trump won against former New York Senator and First Lady Hillary Clinton in one of the closest elections in U.S. history, with the highest eligible turnout since 1960. Libertarian candidate and former New Mexico governor Gary Johnson took 9% of the vote after gaining only 0.99% in the 2012 election.
After success in the Republican primaries, Donald Trump became his party's nominee during the Republican National Convention of July 18-21, 2016. Hillary Clinton narrowly defeated her main opponent, Vermont senator Bernie Sanders, in the California Democratic primary and went on to be nominated in the Democratic National Convention of July 25-28, 2016. Gary Johnson was nominated at the Libertarian National Convention of May 26-30, 2016, defeating businessmen Austin Petersen and John McAfee, who merged their campaigns on May 14.
Clinton led in most polls leading up to September 2016, when the first nationally televised presidential debate aired. Her disastrous performance and further investigation into the Clinton e-mail scandal led to Trump overtaking her in almost every single national poll. On the night of November 8, 2016, Clinton had a much stronger performance than initially predicted, but it was not enough to win the general election. The winner of the election hinged on New Hampshire, which originally was predicted to go to Clinton but was instead won by Trump in an upset victory that pushed him above the 270 electoral college vote threshold needed to win the presidency.