Ad blocker interference detected!
Wikia is a free-to-use site that makes money from advertising. We have a modified experience for viewers using ad blockers

Wikia is not accessible if you've made further modifications. Remove the custom ad blocker rule(s) and the page will load as expected.
The 2016 Presidential Election was the 58th Quadrinnial Election for President. It was between Republican Kasey Lidstrom, Democrat Martin Redford, and Progressive John Belldinger.  
| Kasey Lidstrom | Martin Redford | John Belldinger |
| --- | --- | --- |
| Republican | Democrat | Progressive |
| 339 votes | 89 votes | 110 votes |
| 36 states plus DC | 5 states | 10 states |
| Current President | Governor of Delaware | US Senator from Missouri |
Republican Primaries
Kasey Lidstrom
Mitt Romney
John McCain
Rejected:
Sarah Palin
Rand Paul
[[Chris Christie]
Marco Rubio
Ted Cruz
Democratic Primaries
Martin Redford
Hillary Clinton Rejected Charles Lidstrom, Jr
2016 Election Results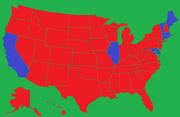 Blue=Republican 339 Electoral votes Red=Democrat 89 Electoral votes Green=Progrssive 110 Electoral votes